Hi, I'm Michele, and I am a pseudo-interior designer with a passion for re-decorating homes. My main purpose is to make refurbishing your homes a whole lot easier by sharing some buying tips when choosing furniture items. At the same time, I want to share some of the design tips I've learned along the way.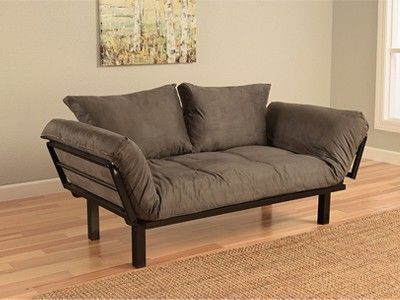 If you're a minimalist, then you must love futons. Why? Futons occupy less space than the traditional beds, and they also serve a dual purpose. They can fit anywhere, including bedrooms, living rooms, home offices, and even dorms. Additionally, a futon mattress and bed are quite pocket-friendly compared to the traditional beds and sofas.
What Is A Futon?
To begin with, the concept of futon originated in Japan. Futons hit the American market in the 80s, but the variety of styles and sizes available today were scarce. History aside, a futon typically consists of a mattress that doubles as couches and a flexible and foldable frame. They can fold flat when you need to sleep or sit upright and be used as a sofa or chair. However, the frame design, as well as the mattress material, can vary, making it pretty confusing when trying to choose the best fit for you. To help you out, here are some pro tips to help you out when choosing a futon that perfectly suits your needs. Let's get started!
1. Frame Style
The style of the frame should always be the first thing to remember as this can determine how much you pay, the type of mattress you buy, and your overall comfort. The best thing is that the market is filled with a wide array of futon styles that can fit into any dcor style. Let's take a brief look at some of them:
Shiki: The original Japanese-style futon, boasting of a low floor profile as well as a thin (3-4), comfortable mattress. Also, the frames are quite lightweight. However, the sofa doesn't feature armrests.
Trifold frame: Mimicking a lounge, trifold frames can offer your room a unique, rustic beauty. The only downside is that it can be a bit difficult to fold it down into a bed.
Convertible sofa: This type of sofas is for those looking for original sofa appearance. They come with fully upholstered arms. In short, you can say goodbye to those hefty, uncomfortable sleeper sofas with this style.
Outdoor futon: The best thing about this style is that both the mattress and the frame are made to withstand any weather condition. Outdoor futons also come in different styles and sizes and can be used space-saving outdoor seating for decks, patios, and balconies.
Love Seat: It resembles the original futon but smaller in size. Let's just say that it's an oversized chair that can fold down into a bed.
2. Frame Material
You have to figure out first whether you want to buy a metal frame, wood frame, or a combination of both. That said, the most common frame materials are aluminum and wood, but some styles will mix things up a bit for aesthetics, like a metal frame coming with wooden accent trim.
If you'd like a futon that is easier to move around, then you should consider an aluminum frame which is lighter and less costly than solid wood frames. On the flipside, they are less sturdy and noisy, unlike wooden frames. Wooden frames on the other side can hold weights up to 600lbs or even more. They are also very durable, making them the best fit if you're ready to pay a few extra dollars.
3. Mattress Type
You should always keep in mind that a futon mattress is selected according to comfort and thickness. Moving forward, an inexpensive mattress can be so thin that you might even feel the frame beneath. However, the thicker mattresses are typically more expensive and harder to fold.
You should also consider the type of mattress material. Quality mattress combination should include one of these combinations: foam-cotton, polyester-cotton, or cotton-wool (the for super-soft feeling). Don't forget to purchase a washable cover and pillows to protect your investment as well as get maximum comfort.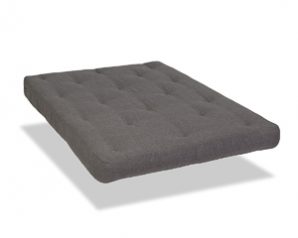 4. Your Usage
Are you planning to use it as your primary bed or to accommodate guests? This is one of the most critical questions in this category that you should answer before settling for a particular futon. If you'd like to use it as your primary bed, then it's best to go for something more durable and comfortable although you'll have to pay more. On the other hand, you don't have to spend a fortune purchasing futons for accommodating guests since it will be used less frequently.
5. Your Futon Budget
Of course, everybody operates on a budget, especially when it comes to shopping for home furniture. With that in mind, you'll need to purchase a futon frame unless if you're planning to place the mattress on the floor. However, many frames come with mattresses, and the average cost can vary between $200 and $500. If you're unlucky to get a frame without a mattress, you'll have to pay something between $100 and $300 to get a quality mattress.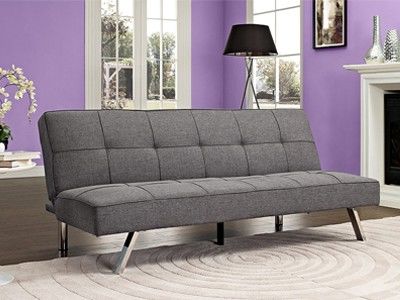 Conclusion
It's generally a good idea to invest in these great furniture pieces. Apart from saving you money and space, futons can last for many years provided that they're properly looked after. However, choosing the right futon can undoubtedly be a challenging task, but one that will reward once you lay your hands on the perfect one.