Hi, I'm Michele, and I am a pseudo-interior designer with a passion for re-decorating homes. My main purpose is to make refurbishing your homes a whole lot easier by sharing some buying tips when choosing furniture items. At the same time, I want to share some of the design tips I've learned along the way.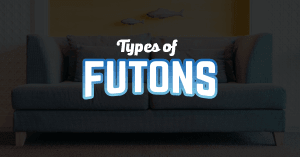 Types of Futons
Hanging out with your friends was a lot easier when you lived at your parents house. But now that you're starting a life of your own, you might not have enough room for most of them.
This is where futons come in.
They are dual-purpose sofas that can be converted into a bed by simply unfolding the mattress. Finding the right one is especially tricky if you are not familiar with them. So I have put together this guide that records in detail the different types of futons available in the market
A futon traces its roots to the humble country of Japan. This old, traditional styled long seat doubles as a bed by simply unfolding the the mattress.
The legs are close to the floor, honoring the Japanese customs and traditions. It was introduced in the US back in 1980 and has been more commonly called as a sofa bed.
The Anatomy of a Futon
Futons come in different styles these days, but the usual furniture piece comes with a wooden or metal frame with locking mechanisms that allows you to customize the position of the sofa-bed combo.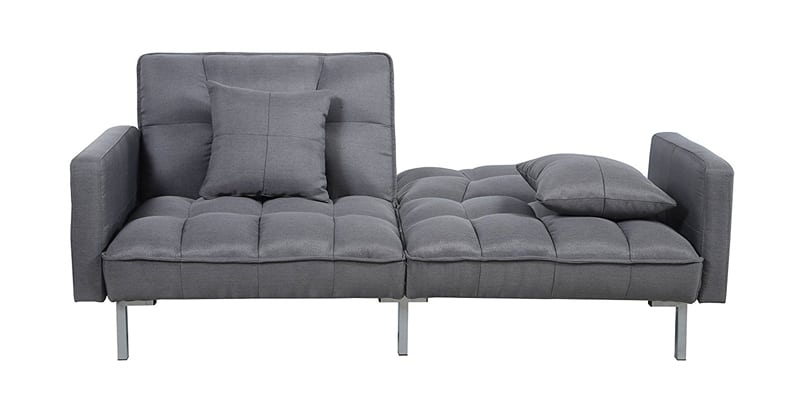 On top, you have a folding mattress which works as the cushion for the sofas, and often a few pillows for sleeping. Futons can have different fillings, materials, and upholsteries. You have some covered in faux leather, while others use linens and tufted fabric.
Frame: The backbone of the futon
The frame is basically the foundation of the entire futon. It holds the parts together and folds to adjust the backrest from an upright position into a flat one for sleeping.
It does not contain any springs but base on the type of frame, they provide enough support to keep the futon sturdy.
Most futons also come with armrests that serve as the headboard when the seat is transformed into a bed.
Mattress: It's the inside that counts
As a result of companies continuing to innovate, we now have futons in almost every size, texture, and thickness. For me, the mattress is the heart of the entire piece because it provides the comfort and firmness that our bodies need for support.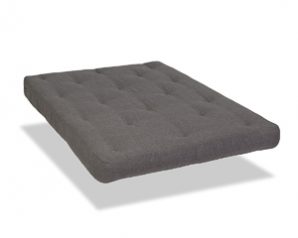 Currently, we have good quality futon mattresses in the market. The best one would have to be those made from memory foam. Not only does it offer ergonomic benefits, it also adds additional comfort when we sleep in different positions.
Cover: Keeping it clean and stylish
Covers or linens are basically the icing on top of the cake. They add beauty to your piece while functioning to protect the mattress from accumulating dust and dirt.
Sometimes futon covers are removable and can be machine washed but in most cases, spot cleaning could be your only option.
If you plan on buying separate parts of your futon, then you can freely choose which linens to use. Just find one that would fit the size of your futon bed.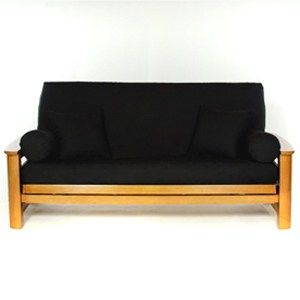 Different Kinds of Futon Frames
Wooden Frame
The wooden frame is probably the sturdiest material available. It's reliable in terms of strength and durability, providing you with the right support as you lie down your futon.
Given the right amount of care, these frames tend to last longer than other options. If you want to customize to your heart's desire, try getting a frame made of unfinished wood. Otherwise, there are a lot of options that provide wood finishing and coating.
Metal Frames
If you're after affordability, metal frames are solid alternatives to wooden material. They may not be as sturdy as wood but they do provide enough support to help you get a good night's rest.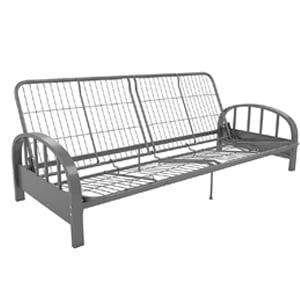 It's the more popular choice because of its price and have been known to last long if proper maintenance is applied.
Since metal is a bit more flexible than wood, it moves around more as you change positions. It is also more lightweight than all other futon frames, with locking mechanisms that allow you to manipulate your furniture.
Bifold Futon Frame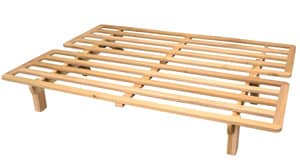 This frame works more as a bed instead of a sofa. It has eight base slats to help support the mattress and give you a stable night's sleep.
It has no headboards or arm rests in either side, one of the most simple futon structures.
Loveseat Futon Frame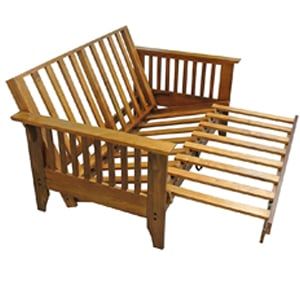 The loveseat frame is the complete opposite of the bi-fold. They function more a sofa rather than a bed. It does have an adorable build with a more modern design.
However, it is a bit smaller than your average futon size so you it can only fit one adult or two children at most.
Tri-fold Futon Frame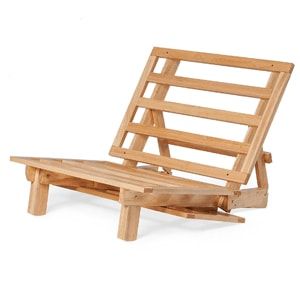 You guessed it right. The tri-fold looks and functions the same as the bifold frame except that it folds into three-ways instead of two.
It has the same spaced out wooden slats but is designed to conform into 13 different positions.
Adjustable Arms
Unlike the bi-fold and tri-fold frames, this frame has arms that can be raised up and down to provide additional convenience to the sleeper.
You can use one side as a headrest and let the other one recline all the way down, or you can extend both arms in case you need more space.
Different Futon Looks and Styles
Traditional Futon
If you need to invite some guests over, a traditional looking futon can do the job. Fit with basic functions of a futon, this can definitely come in handy if your trying to save some space.
Most come in a frame with a mattress but you can also buy both parts separately.
Lounger Futon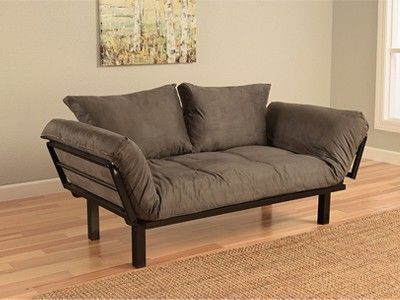 Remember those chairs you typically see at a psychiatrist's office? Well that's how this futon looks like.
It supports your body into a reclining position having your feet raised in perfect alignment to your waist.
Bunk Bed
This is basically a futon style seat with a frame that supports a bed on top.
I remember owning one of these when I was a child. As the eldest, I got the lower bunk.
One of my favorite hobbies was raising my feet to touch the base of the upper bed. It's a good way to get siblings to bond with one another.
Armless Futon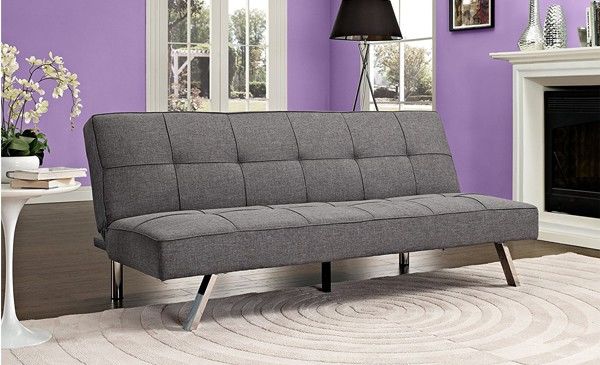 From the name itself, this is a futon with no arms. I actually think these look more modern and sleek than the traditional sofa types.
The setup is pretty basic, representing the true spirit of a futon.
Outdoor Futons
Who says futons are only good for indoor use? These outdoor futons may be slightly smaller than regular ones but they are as comfy and convenient.
Most of them have a fold-out option so you can carry or move them with ease. Make sure to get ones with water-resistant covers in case it rains.
Conclusion
There are no hard rules when it comes to choosing your personal futon, but you may want to consider factors such as price, floor space, size and material before you go choose one. Consider your needs when shopping, and always consider if the piece will match the current pieces of your room or office.